Why Go Solar for Your Home or Business?
First, do you know of any other product or service you can purchase that will actually generate an income that makes your payment for you?
Solar Energy is an investment in your future!
Why Wouldn't You want to be Energy Independent?
Why Wouldn't You Want to One Day End Your Electricity Payment?
Q-Energy custom designs systems to meet your current electricity needs on an annual basis, plus any changes in your needs you may be planning for in the future.
So Please Think A Little More and Take A Look At What We Offer!
When you weigh out all the options available today in renewable energy, you might just find you can't afford NOT to go solar! 
Photovoltaic solar panels can now provide your home or business with reliable solar energy for decades to come.
It may seem too good to be true, but do yourself a favor and continue reading!
The cost of solar has dropped 70% just in the last few years, then at beginning of 2016, a major change happened in the financing of solar energy. Before then the only choices you had were to pay cash (few can afford that) take out a loan or go with a traditional lease, (which means the lease company always owns your system and you lose out on the government and other incentives)

Now anyone can afford can afford to Go Solar because we've made producing your own electricity easy!
NO Money Down, NO Out-Of-Pocket Expense Solar Energy Systems!
By applying the money that was going to the utility company for electricity to now paying for your solar energy system, you will be paying for it with no down payment and nothing added to your monthly budget that wasn't already there.
In fact, your monthly payment for your solar energy system may be less than you currently pay the utility company every month. So if you apply that difference in savings, plus all the incentives you qualify for, your system could be completely paid for in as little as 3 - 8 years.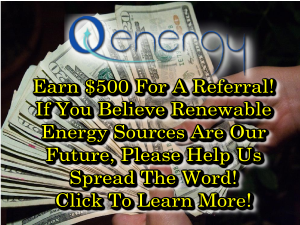 Once paid for, you're generating your own electricity needs for your home or business for years to come, and best of all it's FREE from the sun!
You can now produce your own electricity with a high-quality solar energy system
from Q-Energy and OWN IT rather than lease it forever!
Plus you keep all the incentives instead of the leasing company getting that benefit from the government!
We have begun installing in Mason City Iowa and are currently developing sales territories in Minnesota, Missouri, Illinois, Wisconsin, Nebraska and around the Midwest. To gain a better understanding of what we can offer you in solar energy systems, please review the short slide presentation below to learn more about the costs and incentives when installing a Q-Energy Energy Solar System on your home or business.